There are millions of NFT's for sale, and it seems like thousands of new projects are launching daily. How do you cut through all the noise to determine the best NFT projects to follow and potentially invest in?
For one, and depending on how much money you are looking to spend, you may not want to look at NFT's as an investment. There are currently 4 million assets on OpenSea (the most popular NFT marketplace) and potentially millions across other marketplaces like (Rarible, Foundation, SuperRare, NBA Top Shot, and more). Knowing that the NFT universe is immense and ever-expanding, it is safe to say not all these assets will appreciate.
So, you might ask, what should you look for in a project? We find NFT's with utility (defined below) as a great first introduction into NFT's and their potential future uses.
Top 5 NFT Projects You Should Be Getting More Out Of Your NFT Purchase
It can be challenging to find financially good NFT initiatives. There are numerous factors to consider, as well as numerous locations to investigate. Hopefully, this has helped you narrow down your options.
Doodles
Doodles are a collection of 10,000 NFTs (non-fungible tokens) that are made up of hundreds of exciting visual traits designed by Burnt Toast. Hand-drawn Doodles include skellys, cats, aliens, apes and mascots. The Doodles collection also includes dozens of rare heads, costumes, and colorways of the artist's palette.
What is so unique about owning a Doodle is that it allows you to vote on community-driven features and future products and events. The entire roadmap for Doodles is a collaborative experience between the collectors and the project architects/designer.
Doodles also has a community bank called the "Doodlebank" which is their treasury that is community governed and will be used to fund new experiences. Currently, and at the time of this writing, the Doodlebank holds over $5M in funds.
Doodles have seen the most unique progression in the NFT space after launching their Space Doodles project. "Space Doodles are personal spaceships for your Doodle. Each Space Doodle is generated from over 200 audio-visual traits and accompanied with stats that reflect the competency of your Doodle in its spaceship. Space Doodles and their stats will be used in future Doodles experiences that deliver surprise and delight to the wider NFT ecosystem."
Meta Triads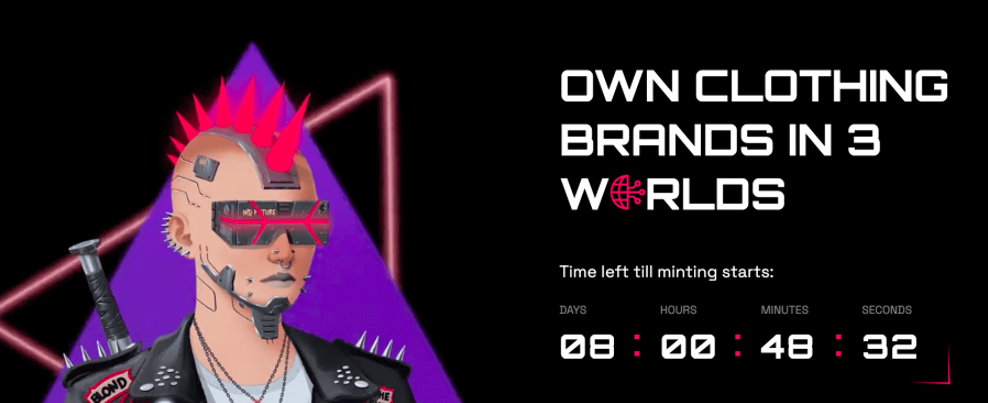 Meta Triads is one of the most interesting upcoming NFT mints, featuring 10,000 digital art pieces with added benefits. The collection is split equally into Humans, Hybrids, and Humanoids, with the remaining special NFT being designated as a 'Triad'. Although the NFTs themselves are appealing digital art that owners can showcase, it's the added benefits that are interesting to investors.
The team behind Meta Triads are developing a marketplace where fashion brands can create virtual collections within the metaverse. This is seen as the next step for the fashion industry and could grow massively in the coming year. All Meta Triads owners will also own shares in this marketplace and earn $TRIA as the market grows and sales are made. $TRIA is the marketplace's native token and essentially provides scope for NFT owners to generate a passive income stream.
Meta Triads is already capturing the attention of thousands of people on social media, with the project's Discord server already nearing 30,000 participants. The collection itself is scheduled to be minted on March 14th, with each NFT priced at 0.18 ETH – which equates to $456 at the time of writing. The Meta Triads NFTs will be available to purchase initially through OpenSea, although investors who miss the drop will also be able to buy these NFTs through the secondary market.
Chronoface
Chronoface is an upcoming NFT watch project that revolves around the concept of non-fungibility and digital scarcity. In addition to being easy to purchase online, their prices are transparent which gives a true evaluation of their value. To serve the different markets, the Chronoface team developed a wide collection of face designs and works with various brands and artists.
With the demand of smartwatch coupled with skyrocketing watch prices, Chronoface aims to create exclusive digital watches with luxurious designs comparable to the physical watch market, if not superior to that of a physical watch.
As the emergence of cryptocurrencies, blockchain technology and NFTs heralds the arrival of Web3 and promising to transform how businesses conduct and interact with their customers, Chronoface proposed a global marketplace for NFT smartwatch users to buy, sell, and trade content anywhere in the world. In the future, it is also expected that their NFT will also be used in the metaverse, allowing users to wear their watches and explore Chronoface's storefront in their avatars.
In staying, serving and incentivizing holders for futuristic watch development and production for NFT smartwatch users, the Chronoface NFT application will be available on Android and iOS devices, allowing users to pair their NFT faces with almost any smartwatch. Each watch face is unique, can only be owned by one person; essentially connecting the physical and digital world for all walks in life.
Yubo
Yubo is a social live streaming tool that allows you to easily connect with friends and meet people from all around the world. You can use it to communicate, watch YouTube videos, and play games. Furthermore, Yubo makes it simple to form your community of like-minded people or make new acquaintances with similar interests.
Yubo Randos, the company's first NFT collection, was just launched. The collection's premise is that everyone needs a rando in their lives. As haphazard as they are, they are frequently the most memorable persons.
One of the primary advantages for Yubo users is the exclusive privilege to send, share, and pin your Rando NFT on the Yubo app. Yubo wants to launch unique events and live broadcasts for Rando NFT owners later this year, allowing you to build a community of like-minded NFT collectors. The first private event is set to take place in July 2022.
Yubo's NFT auction allows you to purchase Randos for 0.1 ETH each. Current Yubo users can also obtain Randos through giveaways and other means.
Rich Cats Nation
Rich Cats Nation is a collection of 1,000 NFTs hosted on the Binance blockchain. The NFTs represent ownership of unique digital art, visualized as cat-based characters containing various random traits. Following a similar structure to other popular NFT collections, some Rich Cats are deemed rarer than others, leading them to have higher valuations on the secondary marketplace.
Owning a Rich Cat NFT will also act as membership to Rich Cat Nation – an exclusive club with various benefits. These benefits include Rich Cat merchandise, in-person events, NFT airdrops, royalties, and more.
The Rich Cat Nation website also details plans for a play-to-earn game in the future, with the potential to transform your Rich Cat NFT into a metaverse avatar. Finally, there is also a built-in 'breeding' mechanism, where owners of male and female Rich Cats can produce 'Rich Kitties' – offering scope for further monetization. The Rich Cats Nation is expected to keep on expanding further until the end of 2022.