SUSHI, the native token of a recently launched DeFi protocol, SushiSwap, recovered some of its losses after Sam Bankman-Fried, CEO of crypto derivatives exchange FTX, agreed to take over admin keys to the protocol from Chef Nomi, the anonymous creator of SushiSwap.
At pixel time (09:42 UTC), SUSHI, ranked 70th by market capitalization on Coingecko, trades at USD 2.9 and is up by 10% in a day. The price is still down by around 8% in a week.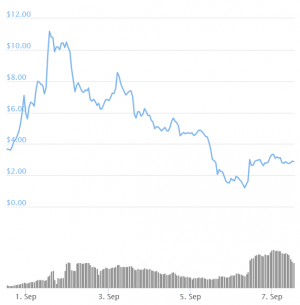 The handover of the admin keys to Bankman-Fried comes after Chef Nomi was criticized for a decision to withdrew USD 13 million from SUSHI's liquidity pool on the Uniswap decentralized exchange. The move by Chef Nomi even led some people to suggest the creator was pulling an exit scam, which the developer denied.
And despite now having control of the project, Sam Bankman-Fried was yesterday among Chef Nomi's harshest critics, saying "Nomi sucks and hurt the community," while offering a way forward for SushiSwap without Chef Nomi at the helm:
A few hours later, Chef Nomi finally took action and stepped down as requested, saying that "I hope SushiSwap does well without me," while adding "I did not intend to do any harm. I'm sorry if my decision did not follow what you expected."
Laying out his plan for the project, Bankman-Fried said that he is now transferring control to a multisig group, after which "Sushi shall be back in the community's hands."
"We'll put up a vote on this whole plan, if majority vote against then we'll scrap it and go back to the drawing board," the exchange CEO added.
Meanwhile, other community members over the weekend also expressed their frustration with Binance, which listed the SUSHI token on September 1, shortly before the token entered a large sell-off, and despite the project not being audited by any external parties. Many Twitter users pointed out this seemingly obvious example of double standards from Binance, which has traditionally performed thorough due diligence on new projects before any tokens are listed.
"If a centralized exchange has no duty to do any diligence on a project, why the fuck would anyone use a centralized exchange. Talk about a weak link," one Twitter user commented.
Among the many critics, some also shared a screenshot of a now-deleted tweet from Binance CEO Chanpeng Zhao, which appeared to provide an explanation for why Binance listed SUHI without even knowing who the founder is:
https://pbs.twimg.com/media/EhNMDrYX0AQ5j7O?format=png&name=900×900
The SushiSwap project is a fork of the better-known Uniswap token exchange protocol, and was recently ranked as having a low safety score of less than 20% by the anonymous DefiSafety team. Despite this, however, the project managed to garner popularity in a few days, largely due to the introduction of the SUSHI governance token that entitled holders to receive a share of the trading fees the platform generates.